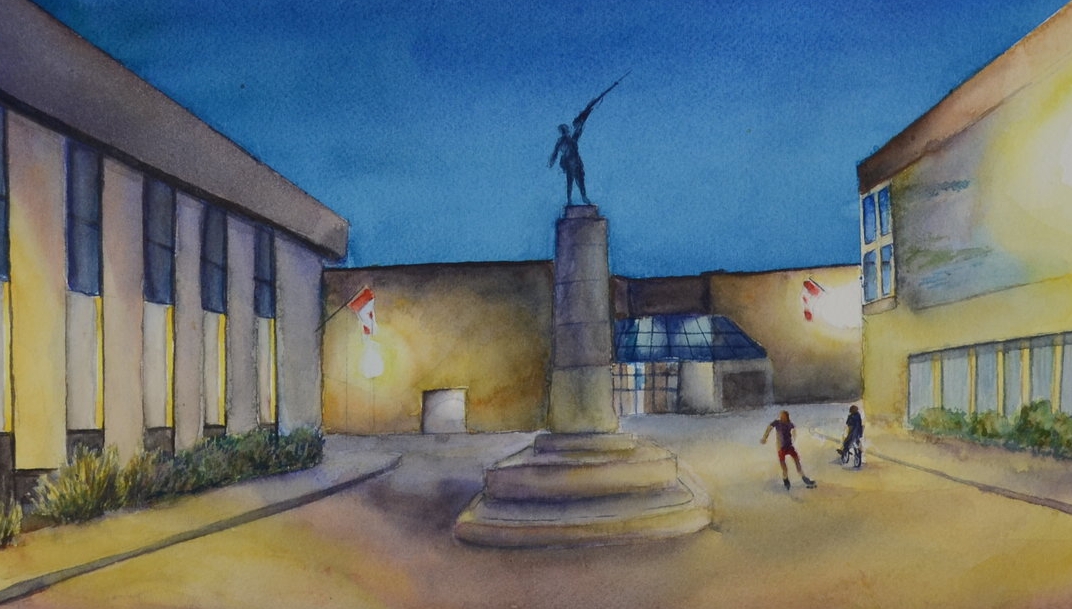 Then Split it into three categories, Things to do, Things to learn, and things to give in my lifetime.
EXPERIENCE
A Road trip across canada
A Road trip across USA
VISIT EVERY US STATE
Play on a sports team
Visit AS MANY COUNTRIES AS POSSIBLE
SkydivE, tWICE
Paint something impossible
Fail massively but still keep your head up
Speak IN FRONT of 10000+ people
Own home
own a gallery
VISIT Arizona, Antelope Canyon
VISIT Bagan, Myanmar
VISIT Chile's Capillas de Marmol caves
Ride a zip line
Succeed at a backflip
Indoor skydive
Complete a Horse Jumping Obstacle
Blow glass
Attend a Jazz Festival
Invent Something
Recreate a Childhood Picture
Raise a tree and release it into the wild
Get yoUr gun LICENCE
Adopt a dog
ATTEND A Meditation CAMP
PRACTICE Yoga FOR A YEAR
Canoe SOMEWHERE
Horseback ride
Refuse to be a victim or suffer. Ever.
Visit Spain
Visit Italy
Witness a tornado in action

Witness a fire tornado in action

Ride a hot air balloon

Swim with sharks

Climb a volcano

Explore an abandoned, haunted town

Storm chase

Ride the world's tallest zip line.
Attend a performance in the Sydney Opera House
Fly using a water powered jetpack
Go on a mission trip in another country
Ride in an MiG Fighter Jet
Learn to ride a motorcycle
Learn to snowboard
Learn to shoot a pistol, rifle, and bow/arrow with proficiency
Learn to surf
Learn to water ski
GROWTH
Memorize American Kenpo
build an art studio
post 500 work in progress painting videos
Learn about advanced first aid
Become world class at watercolor painting
exhibit at 100 galleries
Learn ADVANCED math
Learn to fly A PLANE
Learn a second language
learn 10 songs on the guitar
join a toastmasters
Certified in first aid
Be comfortable driving anywhere
Learn astronomy
Be an optimist
Be 100% open minded
Become the most disciplined person to have ever lived
Be a cleaner
learn to Play piano
earn a purple belt in BRAZILIAN Jiu-Jitsu
Run a 10k
Books to read:
inGenius by Tina Seelig
Thinkertoys
Moonwalking with einstein
The E Myth Revisited
Code of the extraordinary minds by Vishen Lakhiani
Grit- Angela duckworth

Principles- ray dalio
Blue Ocean
The art spirit
How pictures work
Imaginative realism
The practice amd science of drawing
Alla prima II
The creative fight
Zero to One - Peter Thiel

Disciplined Entrepreneurship- Bill Aulet

Disrupt Yourself - Jay Samit

Napoleon Hill's 16 Laws of Success

Man's Search for Meaning

Charles Darwin's On the Origin of Species
Let my people go surfing
The power of now
Rising strong
The six pillars of self esteem
The road less traveled
The book of joy
Learned optimism
Made to stick
Building a storybrand
Everyone communicates, few connect
Turning Pro by Steven Pressfield
The Autobiography of Malcolm X
The female brain
Outwitting the Devil
The Hero With a Thousand Faces
Tuesdays with Morrie
Fearless by Steve Chandler
Positivity by Barbara L. Fredrickson
The five major pieces to the life puzzle
Eleven rings
ZERO TO ONE: NOTES ON STARTUPS
HOW TO BUILD THE FUTURE
by Peter Thiel
INCOGNITO: THE SECRET LIVES OF THE BRAIN
by David Eagleman
PREDICTABLY IRRATIONAL
by Dan Ariely
THE POWER OF MYTH
by Joseph Campbell
THE MORAL ANIMAL
by Robert Wright
PHANTOMS IN THE BRAIN: PROBING THE MYSTERIES OF THE HUMAN MIND
by V.S. Ramachandran
Can't hurt Me - David goggins


CONTRIBUTE
Teach millions art
Own a ford Mustang
Build an online school
Build a lifestyle out of positivity
Share and document how awesome the world is
Write and illustrate a children's book
Write an autobiography
Fund 100 children in third world countries to get their cleft lip/palettes repaired
Be a foster parent
Donate hair
Donate blood
Volunteer at a wildlife rescue
Paint 20 murals
Volunteer at a nursing home
Create a charity
build an app
GIVING WHAT WE CAN PLEDGE FOR 50 YEARS
become a volunteer Firefighter
Volunteer for SARVAC/Red Cross